This super delicious recipe from The Kitchn utilizes the last bit of in season citrus fruits! Leftovers can be stored in an airtight container for up to 3 days!
The pretty arrangement of  citrus that covers the top of the polenta pancake will certainly impress everyone around the table, but there's an even more delightful surprise hiding under the surface! The lemon curd swirls offer a sweet and tangy surprise.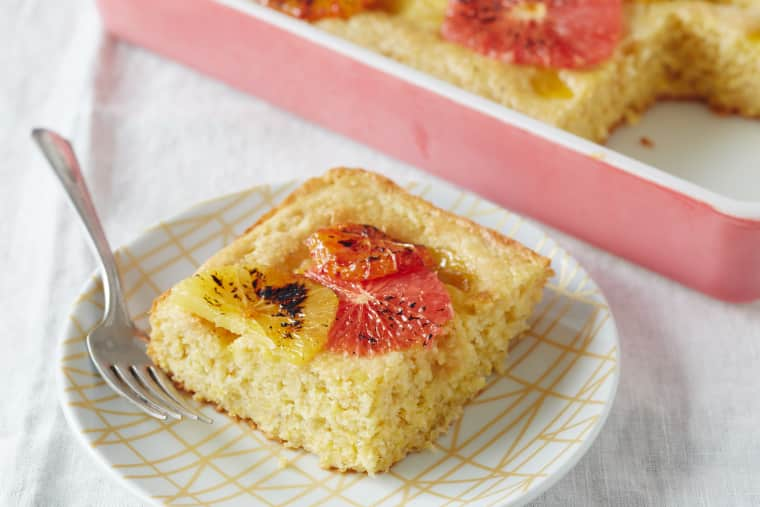 Ingredients
serves 6 -8
2 tablespoons granulated sugar
2 tablespoons finely grated lemon zest
1 1/2 cups all-purpose flour, divided
1 cup coarse-ground cornmeal
1/4 teaspoon fine salt
2 large egg yolks, lightly beaten
2 cups buttermilk
1/2 cup whole milk
4 tablespoons (1/2 stick) unsalted butter, melted and cooled
Cooking spray or butter, for coating the baking dish
1 teaspoon baking powder
1 teaspoon baking soda
2 large egg whites, at room temperature
3/4 cup lemon curd
2 lemons , peeled, sliced into wheels, and seeded
1 navel orange, peeled, sliced into wheels, and seeded
1 Cara Cara orange, peeled, sliced into wheels, and seeded
1 grapefruit , peeled, sliced into wheels, and seeded
2 tablespoons coarse sugar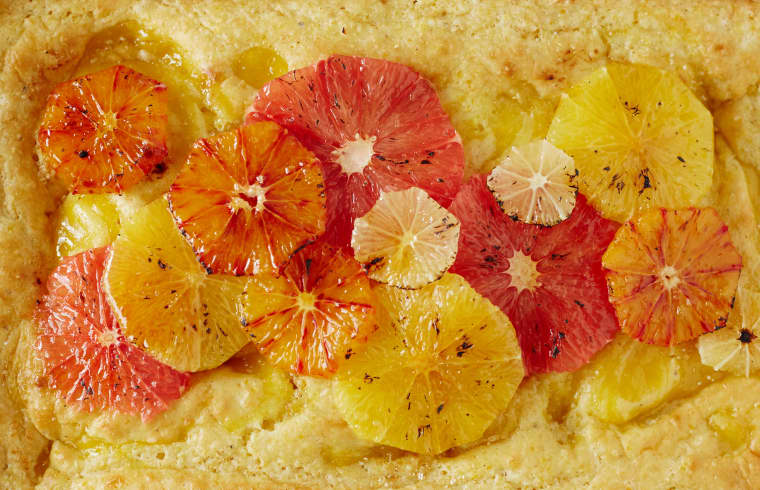 Directions
Combine the sugar and lemon zest in a small bowl. Use your fingers to rub the zest into the sugar until it's well-combined and fragrant.
Whisk 1 cup of the flour, cornmeal, and salt together in a large bowl. Add the lemon-sugar, egg yolks, buttermilk, milk, and melted butter. Stir until just combined. Do not over-mix.
Arrange a rack in the middle of the oven and heat to 350°F. Coat a broiler-safe 9×13-inch baking dish with butter or cooking spray.
Whisk together the remaining 1/2 cup flour, baking powder, and baking soda in a small bowl. Whisk the egg whites in a medium bowl until frothy and almost doubled in volume. Stir the flour mixture into the cornmeal batter until just combined. Fold in the egg whites.
Pour the batter into the prepared baking dish. Top the batter with dollops of lemon curd, then use a spoon or knife to swirl them through the batter.
Bake until the casserole is lightly browned on the top and sides, starts to pull away from the sides of the dish, and the top springs back gently when touched, about 35 minutes.
Remove from the oven. Increase the oven temperature to broil. Layer the citrus slices over the center of the casserole, then sprinkle with the coarse sugar. Broil until the sugar is lightly caramelized, about 2 minutes. Remove from the oven and cool for about 5 minutes before serving.