Looking for a cozy weekend getaway? Look no further! Montreal and Quebec City, both close enough for a fun road trip as well, are the perfect locations for you! These quaint cities offer the most picturesque views and cathedrals as well as some delicious dinner spots for you and your significant other!
Montreal
Lets get one misconception out of the way, Montreal is not France, although it may be difficult to look past the cobblestone streets and see the french cafes and bistros, there are lots of many different options other than just French food!
Linguini al Salmone: Salmon, garlic, basil, olive oil, cherry tomatoes and spinach~the garlic sauce was very light as to not leave you with a heavy stomach at the end of the night and the tomatoes added the perfect about of flavor to the fish!
Restaurant Corneli
This modern pizzeria on St. Laurent boasts a wood-burning pizza oven straight from Italy! Their gourmet pizza and pasta dishes pair perfectly with one of their many wine options! They also have an extensive appetizer and dessert menu if your day travels have caused you to work up an appetite!
Our favorites:
Gnocchi al Gorgonzola: Potato Gnocchi with a Gorgonzola cheese sauce and walnuts~now this dish was so yummy! the dense pasta left us super full at the end of the night and was the perfect dish to warm us up after a long day of exploring the cold city! 
 Sumo Ramen: your choice of one of three broths, ramen, pork belly, seaweed, beansprouts, green onions, a half marinated egg, and corn. This bowl was absolutely amazing and warmed us up after a day of hiking giving us much more energy to continue the days activities
Sumo Ramen
This little loft restaurant is tucked right in the corner of China town! It has a plethora of yummy ramen bowls and is in the perfect location for a quick stop lunch or a quiet place to relax after exploring the nearby Old Montreal neighborhood!
Takoyaki: (fried octopus ball) this fun little appetizer was packed full of flavor, a perfect snack and totally social media worthy!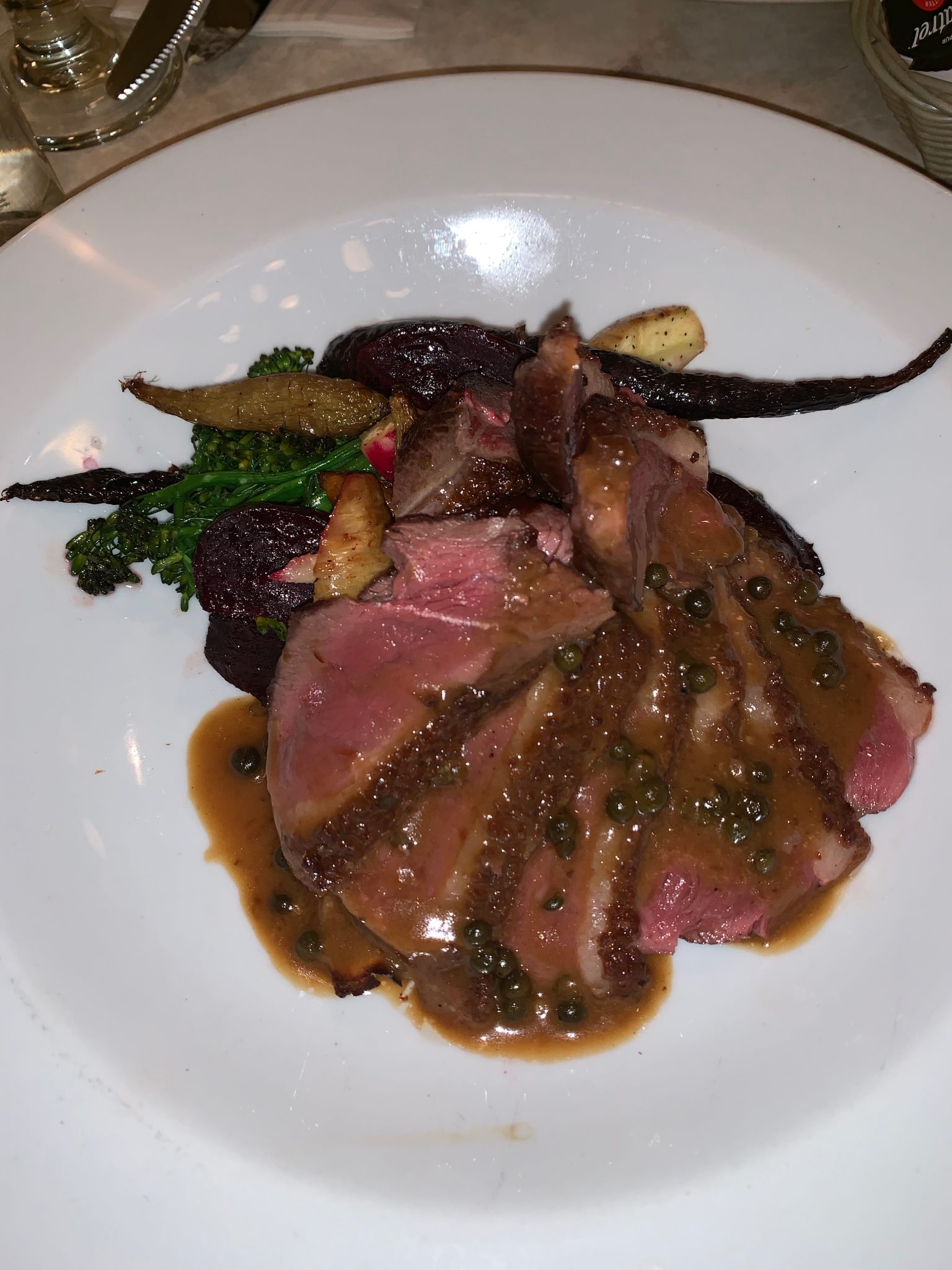 Confit de canard – Duck Confit:  Duck with Mashed Potatoes with Watercress and Smoked Bacon, Roquette, Wild Berries Vinaigrette. This dish was super yummy for all duck lovers! The meat was so tender with just the right amount of flavor, the bacon had a complimentary sweetness that balanced out the saltiness of the duck. 
Les Deux Gamins
We finally caved to live out our inner Belle from Beauty and the Beast fantasy and dined at an adorable french bistro! Les Deux Gamins was very quiet and peaceful, rather than busy and bustling like most of the other restaurants we had been to! V If you are looking for an intimate setting, with extremely friendly waitstaff this is definitely the place for you!
Our favorites:
Onglet de Bœuf Poêlé – Beef Hanger Steak Pan Fried: with Sarladaise potatoes, Shallot sauce, Salad of Green Vegetables, and Sauteed Mushrooms. Again, the meat in this dish was so tender and juicy easily one of the best steaks either of us have had. The potatoes have an unexpected flavor yet work perfectly, especially when mixed with the shallot sauce.
Quebec City
Another 2 hour drive north of Montreal is Quebec City. The much quieter nightlife was the perfect way to wind down our trip, the locals are extremely friendly and eager to share the history and knowledge about the beautiful castle like buildings displayed in Vieux Quebec neighborhood!
Cafe Bistro L'omelette
At this point in our trip, we had still yet to try any poutine! Being in the city where it originated we had to hunt it down! This restaurant had such a homey feel complete with family photos and a fireplace! We felt as if we were stepping into someones dining room for lunch! The waitstaff and chefs were extremely friendly and even sat down with us to chat for a bit! The pretty view of the cobblestone street pair with the great (kid friendly) atmosphere made it the perfect place for a quiet lunch!
Our favorites
Poutine: Typical french fry dish topped with cheese curds and brown gravy. (tip: much easier eaten with a fork!)
Carbonara: Spaghetti, cream sauce, egg yolk, bacon, shallots, parmesan. The homemade pasta was so yummy and the and there was just enough cream sauce to make the meal enjoyable without it feeling like too much.
Sapristi
This fun modern Italian bar caught our eye with how brightly lit it was! With decorative lights all over and the fun music in the background we were drawn to its welcoming  it was in the perfect location with its dining area set back from the street which created a more seclusive and comfortable ambiance. Located just outside of all of the night activities it serves as the perfect gateway to continue to check the city out or head back to your hotel room to end the night!
Our favorites:
San Francisco: Farfalle, chicken, mushrooms, sundried tomatoes, leeks, pine nuts, creamy parmesan sauce. This dish was full of different flavors the parmesan sauce made it a bit denser than the carbonara, however the tomatoes, leeks, and pine nuts added a mix of texture and an unexpected flavor combination that blew us away.