We are excited to catch up with Bay Farm Montessori Academy and share with you a little bit about the beautiful school situated on 9 acres of land in Duxbury, MA.
Can you share a bit about the school's philosophy and mission?
Bay Farm Montessori Academy is a learning community where children are inspired to grow with joy, purpose, and compassion.  The work of the school is grounded in the firm belief that the Montessori educational model provides a proven and effective foundation for learning. The Montessori method concentrates on the specific developmental needs of the student and Dr. Montessori believed there is no cookie-cutter approach to educating a child. Through her research, she developed a new type of classroom, one that challenged students as individuals in a prepared environment. Bay Farm operates under the Montessori theory of giving each child respect as an individual in order to ignite their passion for learning.
We provide a nurturing environment for students so that they can develop the skills and sense of responsibility to be confident learners, eager to understand themselves and their place in the world.
At what age can a child attend Bay Farm Montessori Academy?
Bay Farm has an Early Education Program as well as a K- grade 8 program. Children as young as 12 months old can attend Bay Farm in our Toddler House.
Tell us about the beautiful location and 9 acre campus, as well as all the recent updates.
Bay Farm Montessori Academy's campus is situated on 9-acres in Duxbury, MA. Over the last three years, the campus has undergone major transformations with the addition of a farm enclosure that holds 3 pygmy goats and 2 alpacas, a chicken coup, a fruit tree orchard, and a new swimming pool.
The school has also just completed a renovation of our Middle School building, transforming the space into a state of the art facility for the entire campus. The Middle School building is home to The Shop – a place for students to take the learning they are getting in the classroom and apply it to real-life applications with hands-on projects.
What do current families say their favorite thing about Bay Farm is?
We often hear parents praise Bay Farm for helping their children become thoughtful, independent, and confident in their learning abilities.  Beginning with arrivals in the morning and at every level, Bay Farm students independently enter school with joy and excitement. Bay Farm has often been described as a warm hug where children and parents feel safe and welcome on campus. A Bay Farm student looks forward to school, embraces the challenge, and respects the process. Parents enjoy dinnertime conversations with children that are informed, confident, and articulate.
What is the biggest misconception about the school?
"Montessori follows the child. Does that mean my child will do whatever they want all day?"
That is a very common misconception with Montessori. When we describe our philosophy as child-centered we are describing the individual learning path we support for each of our students. Our classrooms are not teacher-centered. We know for certain that every child learns differently and we embrace those differences. Our three-hour work cycle is best described as freedom within limits. We meet all curriculum standards but we allow those foundations to solidify before moving onto the next subject. We do not want students to just get through, we want them to really learn and understand. Those strong foundations will allow them to be successful anywhere in life. We balance the high academic expectations with an integrated specials curriculum that allows our students to explore agriculture, music, art, shop, and Spanish.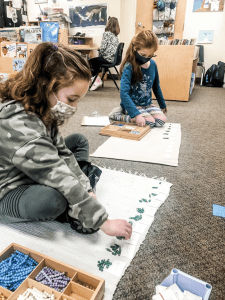 How has the school had to adapt during this unprecedented school year?
COVID-19 has required us to be flexible and adaptable. Our 9-acre campus allowed us to set up outdoor classrooms earlier in the year for each of our upper levels as well as specialist classes. Our classrooms are large which allows our students to stay physically distant. We have a full-time School Nurse who handles the health and wellness of our entire school community.
In the unlikely event of another mandated school closure, Bay Farm has a "Bay Farm at Home" platform ready to go, providing online learning for our K-8 students and daily at-home activity suggestions for our Toddler-Pre-Kindergarten students.
Is Bay Farm involved in anything within The South Shore community?
Before COVID-19, Bay Farm hosted "Saturdays at Bay Farm" – an event series each month geared toward families across the South Shore. These included events like science and magic shows, music concerts, and reptile visits.
Bay Farm's Student Council is also involved with the Plymouth Area Coalition for the Homeless, organizing donation drives throughout the year. Bay Farm has a relationship with Duxbury Bay Maritime School where Bay Farm Middle School students attend DBMS each week during the fall for sailing lessons, kayaking, and marine biology lessons.
With the opening of our new Middle School facility and Shop, we hope to host community events, tutoring sessions, Science Fair workshops, and more to the local South Shore community once COVID restrictions are lifted.
What is something our readers would be surprised to learn about the school?
Bay Farm has been around for almost 50 years! Bay Farm has a rich history and an exciting future ahead. The core values remain the same as they were when they first opened our doors.
——-
Thank you for sharing with us what a special place and program Bay Farm Montessori Academy is. TSSM, Bay Farm is currently accepting applications for grades 4-8 and they encourage interested families to fill out this short form. The Director of Enrollment will reach out to schedule a Zoom call to provide more information on the school and the programs. 
For More Information, Visit:
Instagram: @bayfarmmontessoriacademy
Bay Farm Diversity Statement:
Modeled by faculty and administrators, by peers and parents, our school is energized by a fundamental belief in the importance of respect. Bay Farm Montessori Academy does not discriminate on the basis of race, religion, creed, color, ethnicity, national origin, citizenship status, disability, physical challenge, age, sexual orientation, gender identity and expression, weight, or any other characteristic. Bay Farm is committed to creating an open, diverse community of learners, able to question, value, and appreciate the human experience.
Check out the community conversations taking place for more information.
Bay Farm Montessori Academy Virtual Tour – Early Childhood Education
Bay Farm Montessori Academy Virtual Tour of Elementary I, Elementary II, and Middle School