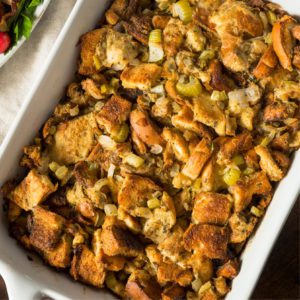 Take your stuffing game to the next level this holiday season with this recipe from Hale Bone Broth! Inspired by culinary favorite Ina Garten, this savory and hearty stuffing packs all the protein, collagen, minerals (and more!) thanks to golden ingredient, bone broth! Enjoy!
Sausage and Herb Stuffing – Recipe inspired by  Ina Garten
 Yield: 8 to 10 servings Total: 1 hr 22 min Prep: 25 min
Cook: 57 min
Ingredients:
16 cups 1-inch bread cubes, gluten free or sourdough (1 1/2 pound loaf)
8 tablespoons (1 stick) unsalted butter 2 cups medium-diced yellow onion (2 onions)
1 cup medium-diced celery (2 stalks)
2 Granny Smith apples, unpeeled, cored and large-diced
2 tablespoons chopped flat-leaf parsley
1 tablespoon kosher salt or Hippy Pilgrim Thanksgiving Blend
1 teaspoon freshly ground black pepper 3/4 pound sweet or spicy Italian sausage, casings removed
1 cup Hale Bone Broth
1 cup dried cranberries
Directions:
1) Preheat the oven to 300 degrees F.
2) Place the bread cubes in a single layer on a sheet pan and bake for 7 minutes. Raise the oven temperature to 350 degrees F. Remove the bread cubes to a very large bowl.
3) Meanwhile, in a large saute pan, melt the butter and add the onions, celery, apples, parsley, salt and pepper. Saute over medium heat for 10 minutes, until the vegetables are softened. Add to the bread cubes.
4) In the same saute pan, cook the sausage over medium heat for about 10 minutes, until browned and cooked through, breaking up the sausage with a fork while cooking. Add to the bread cubes and vegetables.
5) Add the Hale Bone Broth and cranberries to the mixture, mix well, and pour into a 9 by 12-inch baking dish. Bake for 30 minutes, until browned on top and hot in the middle. Serve warm.