Hey, Mamas! Hope you had an amazing weekend and off to a fabulous last week of July! Today is Meet A Mom Monday and we are so excited to introduce you to South Shore Mama and business owner, Jennifer Powell, RN of Powell Studios in Hanover! Powell Studio is the South Shore's premier health and wellness medical spa!  From the moment you walk in, you immediately feel comfortable as the highly trained staff of nurses and experts are there with one goal, to make you look AND feel your very best. Jennifer is equal parts lovely and professional and we had the absolute best time getting to know her. Read along to find out what cosmetics injections are like and what makes this mama of 5 truly special!
What is Powell Studio and where are you located?
Powell Studio is a boutique-style medical spa for both men and women. We focus on medical aesthetics services with the philosophy of less is more. We only offer services that we believe in and know will give the desired results to our clients. I'm a strong believer in restoring and harmonizing your features to keep you looking youthful but most importantly naturally you. The best way to begin your aesthetic journey is to schedule a consultation! Powell Studio is located right in Hanover near Norwell's Merchant Row. We are at 222 Webster Street in Hanover within the Charles David building. The newly renovated Powell Studio always leaves people feeling instantly relaxed and looking forward to their experience at each visit. We can't wait for you to visit and have the Powell Studio Experience yourself!
For a long time, it seems like there was a stigma attached to cosmetic injections. But lately, it is becoming more accepted and more available. What would you say has caused this shift?
Self-care is widely recognized as a vital component of our happiness and overall well-being. We all work hard focusing on our bodies, eating well, exercising, maintaining a healthy sleep schedule, etc. But many people—men and women—want to take it a step further to work towards aging in reverse. Our treatments and our less-is-more approach leave clients feeling knowledgeable and confident about how they look and that is our favorite kind of self-care!
What are the most common types of cosmetic injectables?
Botox and Dysport are the most common injectables as they are both wrinkle relaxers and help our clients achieve a rested, refreshed and happy appearance. However, my personal favorite way to achieve a holistic complete result is Sculptra. I describe Sculptra as the foundation of your home when it is strong what you need above it for support is always less and easier to maintain. Sculptra helps keep others guessing while achieving some of the most amazing results for our clients. This effective treatment rejuvenates and restores lost volume in the face reflecting unflattering shadowing and lighting, increasing collagen by 66% in just 45 days leaving long-lasting, natural and glowing results. Our Sculptra treatments are the perfect antidote to age or weight-loss-related volume loss and allow our clients to age in reverse. You have to check out some of our before and after photos to see the impact Sculptra can have!
How do you determine what your clients need?
A consultation with new clients is my favorite way to start your aesthetic journey. This allows me to obtain a medical history, learn about their concerns and beauty goals and spend time educating them about what treatments and services will help them not only achieve but maintain natural long-lasting results. You have the option to receive the treatment that day or can book it at a later date. All consultations and treatments can be scheduled in advance by calling the office at (781) 421-6544 Or by schedule online via this link .
What would you say to comfort someone who wants to get injections, but is feeling hesitant?
Seeking out one provider that shares your aesthetic eye and making the decision to invest in yourself is one of the best things you can do. All day long, us moms especially, are meeting the high demands of our children, our spouses, our homes, our bosses, and the list goes on. Moms are always giving their love and energy to others, and we often forget to give it to ourselves. Taking the time to understand your body and how it is aging can be very empowering. Understanding which treatments will help prevent or reverse the signs of aging is usually the best perk-up to help you look and feel refreshed, rested, and help you regain that youthful glow.
Your background is as an RN working in a hospital setting. What inspired you to make the change to this type of medical practice?
I have been a Registered Nurse for over 20 years and spent a decade working in various settings such as Neurology, Neonatal ICU and South Shore Hospital's Adult and Pediatric Emergency Rooms. While in the ER, I advanced my career and became certified as a sexual assault nurse examiner (SANE), later becoming the Central Ma SANE Regional Coordinator. It was during this time that my passion for helping women really began. I've always been driven to learn and grow so entrepreneurship felt very natural. I love that at Powell Studio I still get to be present and care for people like I did in the hospital setting, but now I can help them look and feel their very best. The time I spend and the smiles I see followed by  sincere notes of gratitude make all of the challenges of entrepreneurship worth it.
What is something people would be surprised to know about you?
Being a proud mom of five, I am familiar with getting the surprised "Did you say 5" response. Having the ages range from 8-21 I have a complete understanding of how time is a thief. I feel grateful to be a person that is truly present during family time spent together. Everyone always asks how I balance it all–being passionate and loving what you do each day makes even the hard stuff easier. The success and ability to accomplish so much is because I have an incredible team and husband that I can rely on! Being able to ask for support and help is critical and I'm so grateful.
What is your favorite part about living on the South Shore?
Being part of the South Shore community has been incredible—seeing my kids thrive here and getting to know so many of my amazing fellow business owners and families is the best. Like many of my clients—we are huge fans of the beaches here on the South Shore and love that we are able to call the south shore home.
Can you share with us your best parenting advice?
Yes, when I'm not busy at work, you can be sure that I'm busy with the family. My husband Nathaniel and I are so proud of each of our kids and boy do they keep things moving. My biggest bit of parenting advice is to remember to let kids be kids. Let them be curious, creative, and excited about the little things…little everyday things. Be curious with them and laugh more with them (crying is okay too!). Mistakes are howwe learn and grow. Give them the space to make their own mistakes. Nurturing my kids from afar to overcome something difficult and come out on the other side confident and proud of themselves is a gift. I love to see their eyes light up with confidence when they realize they have completed a difficult task that once was met with fear or hesitation. I try to teach them to never give up because hard work does pay off!! I always feel like it is a fun glimpse into my own childhood and that sense of wonder is so refreshing. I feel grateful that my path of pursuing my professional goals has allowed me to prioritize self care leaving the space in my life to be 100% present with my friends, my amazing family to enjoy every little moment that are so precious.
What family activity do you enjoy most?
Traveling, there is nothing better than seeing different parts of the world with your family. Learning about culture and truly having an experience over stuff is something I look forward to each year.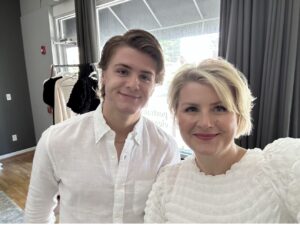 You help a lot of men and women with their self-care, what self-care do you practice?
As a business owner, I work hard and often long hours. I am also enrolled in Purdue Global University online program to get my Master's Degree as a Family Nurse Practitioner. I love the learning process and educating others like my patients on how treatments work. I also spend a lot of time teaching fellow providers across the country, which is very rewarding. When it's time to take a break, I love visiting my fellow women-owned businesses, btone Fitness and Scorch Fitness, followed by a sauna and ice bath to maximize recovery and minimize inflammation. I am not a lover of the cold but I feel like I can conquer the world after an ice bath. I have incorporated this into my everyday routine. Networking with my Girl Gang and connecting with my community, walking the beach or catching a podcast are always top of my list . Finding the good in each day and seeking out any opportunity for laughter in good company of friends I highly recommend. A little fountain of youth IV hydration and retail therapy at Anthropologie also never disappoints. These are a few of my favorite things!