Meet Dr. Alexandra Sibert, a local chiropractor at MCR Chiropractic who cares for all ages!
Below she answers some questions asked by our readers about chiropractic and she tells us more about how chiropractic care can not only help moms, but the whole family.
Dr. Alex, thank you for taking the time to chat with us and to answer some of our reader's questions! Let's start with MCR.
Who is MCR Chiropractic and where are you located?
MCR Chiropractic is the leading network in chiropractic services in New England, currently with 19 convenient locations in MA. My office is located at 141 Longwater Drive, near South Shore Medical Center, in Norwell. We are sister companies with Bay State Physical Therapy and offer PT services on-site. We really focus on treating the person as a whole and getting to the root cause of your pain. We specialize in regaining and maintaining your health and offer comprehensive evaluations and specific treatment plans to ensure you feel better faster and stay better longer, returning you back to the things you love the most!
What should we expect during a first visit? 
Since your first visit consists of a thorough evaluation, you should expect to be at the office for about 30-45 minutes. During that time, you will fill out a medical history form and complete an examination to see if chiropractic is the right fit your you!
The medical history form will include questions about past medical history to help best tailor treatment for you. After this, I will greet you and take you into one of the exam rooms, where a comprehensive exam will take place. This will include checking your spine, posture, and range of motion. An important thing to remember is to dress comfortably! This means loose fitting clothes; many of our patient's wear athletic wear during our visit. All up-to-date Covid-19 safety protocols are being performed and per the CDC's recommendation, face coverings will remain required in our locations until further notice. If you are interested in learning more about our safeguards, please visit our website.
What is a chiropractic adjustment and does it hurt? 
A chiropractic adjustment is a safe yet gentle technique that realigns your spine. In doing so the adjustment can take pressure off your nerves and discs in your spine so your body can function better! There are many different techniques that I use to "adjust" someone's spine by hand or instruments! I always explain what technique I am going to use and why I select that specific technique for each individual. The chiropractic adjustment doesn't hurt and many people feel relief immediately following an adjustment!
Is chiropractic care safe for pregnant women or children? 
Yes! Chiropractic is extremely safe for pregnant women and children. Not only can routine chiropractic care throughout your pregnancy help manage pain during pregnancy, but it can also help ease labor and delivery. During pregnancy, the adjustments focus on pelvic alignment, which gives baby the most room in the womb. I am currently in the process of earning my Webster certification and will have this completed in the Fall. This technique helps babies turn into the proper position in the womb on their own and helps mothers prepare for birth.  Post-natal, it is important to see a chiropractor as labor and delivery can be both stressful for mom and baby. After birth adjustments can focus on making sure mom's pelvis is in proper alignment. I also see children of all ages from 1 month old and up. The adjustments for children are safe and applied with a gentle hand. There are various reasons that children come into the office; ear infections, torticollis, colic, digestive issues, better sleep, and much more.
I just had a baby and nursing has been tough on my neck , shoulders, and back (among other things). What should I do? 
This is common after giving birth. Every mother is excited to constantly stare at their precious newborn and it's common to develop stress on your neck and back. I would suggest to first make sure you are switching nursing sides so baby does not get comfortable on one side, which also will put less stress on your neck and shoulders. I would then make sure to use pillows under baby's head and your arms to take pressure off their neck and shoulders. I would recommend that you also see a chiropractor for an evaluation for your posture and possibly some stretches and exercises to help ease your discomfort.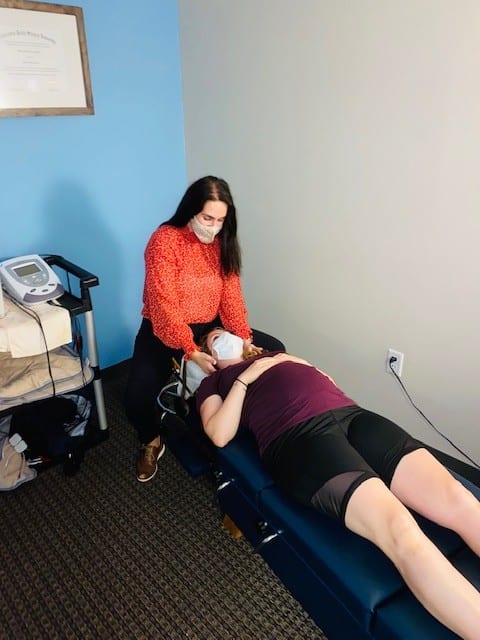 How often does one person have to visit a chiropractor? 
I love this question and get asked this frequently! Everyone is completely different! During your exam and follow up visit, a customized treatment plan will be discussed with you depending on what you are going to the chiropractor for! During pregnancy, I generally see patients as many as three times per week to once every three weeks depending on what the patient sought out chiropractic care for. During pregnancy, the hormone relaxin is helping your body to grow. Your body is changing quickly, therefore it's important to make sure you are getting regular (every 2-3 weeks) adjustments.
I sit in a chair all day for work. I am not in pain, but I feel stiffness throughout the day. Do I need a massage or chiropractic care? 
Many people think that people only go to their chiropractors for pain. While that is true, it is not always the case. A lot of patients see chiropractors for wellness care, which means that the patient is not experiencing pain, but wants their body to feel and function the best it can. When you're in pain, that is when chiropractors can do some of their best work to help your body feel its best. If you are not currently experiencing pain or stiffness, I would still recommend having a consult with a chiropractor. You can benefit from chiropractic care to prevent any pain that can occur in months or years by sitting for most of the day. Some patients do use massage therapy to help loosen up the muscles before receiving chiropractic treatment.
What types of pain do chiropractors treat? 
Chiropractors treat a variety of conditions. Chiropractors can treat neck pain, back pain, sciatica, disc herniations, headaches, migraines, TMJ, sports injuries, whiplash, MVA, as well as pregnancy related conditions just to name a few. If you are unsure if something falls under the chiropractic scope, please call the clinic for a free 15-minute consultation and we will be happy to see if you can benefit from chiropractic care.
Why do adjustments sometimes make a popping sound? 
The sound heard during an adjustment is also known as joint cavitation. This sound is heard when air that has built up in the joints is released, which helps reduce pressure in your spine. Sometimes it can be louder than others, but it's not painful!
Can I learn to adjust myself? 
It is never recommended to adjust yourself or anyone else. It is important you see a chiropractor who has had extensive training and who are experts in the musculoskeletal system to adjust you!
Are all patients adjusted the same way? 
No, all patients are not adjusted the same way. I use a variety of techniques for adjusting and soft tissue work that is based on the individual needs of the patient. Some of the techniques that I use are Thompson Drop, Activator, Diversified, and Flexion Distraction. I am trained in Graston Soft Tissue Technique and will be certified in Webster Technique this Fall.
Can chiropractic help with sports injuries? 
Yes, chiropractic care can help with sports injuries. It can help speed up the recovery from a sports injury as well as enhance your performance and prevent injuries down the road. Chiropractic care can improve your range of motion and assist in injury repair. Many sports injuries are related to the back, neck, and extremities. All of which chiropractic care can help with!
Do I need a referral from my medical doctor? 
Most insurance do not require a referral from your medical doctor. There are only a few that require a referral, such as Standard Mass Health, Tufts Medicare Preferred, and Fallon. When making your evaluation appointment, the front desk should inform you if you need a referral and will help you to obtain a referral if needed.
Does Health Insurance cover treatment? 
Most health insurances cover chiropractic treatment. Depending on each individual's plan, sometimes there is a limit to how many visits will be covered. We recommend calling your insurance to see if you have chiropractic coverage. Our office runs everyone's insurance before your visit to make sure you are aware if you are covered and the cost of your treatment.
What makes you different from other chiropractors? 
Something that is unique to MCR Chiropractic, is that all our locations offer on-site physical therapy services through our sister company, Bay State Physical Therapy. Having both services in one location gives our patients the opportunity to receive a full, comprehensive rehabilitation care plan and allows for easy access and open communication between your PT and your chiropractor! Something else that is different about MCR is that all of our evaluation and re-evaluation notes will all automatically get faxed to your primary care, so that they are informed on how you are progressing in chiropractic care.
How can patients contact you to get started? 
They can give our clinic in Norwell a call at 339-510-4520, or they can visit this link to schedule an appointment online! We also have many other locations in the South Shore, such as in Pembroke and Weymouth, and offer 15+ other locations in MA. I am always accepting new patients and can get you scheduled within 24-28 hours! If you are hesitant to begin chiropractic care or would like to learn more, I would be happy to schedule a 15-minute consultation with you!
Thank you so much for taking the time to answer our questions! TSSM, book your appointment with MCR today!