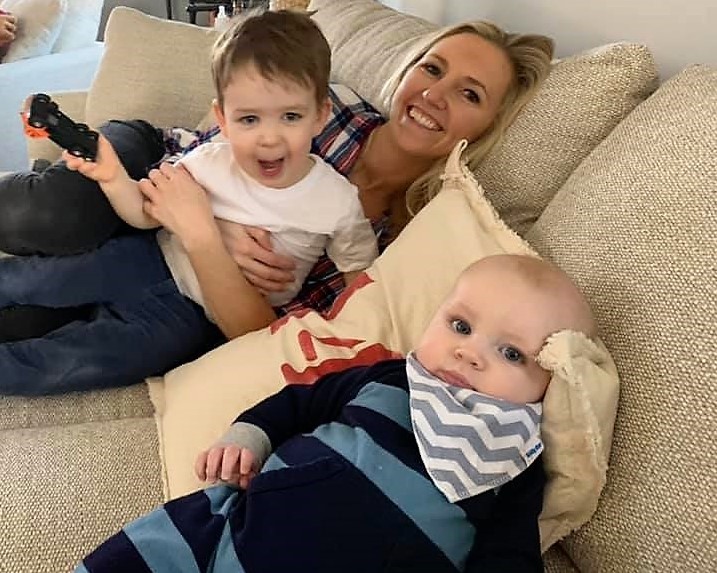 Jackie grew up up Cohasset and lives in Hingham now with her husband and two boys. Charlie is two and Tommy is almost six months.
◇ What do you love about your hometown?
I love the people! Hingham offers a strong sense of community and most people seem to be genuinely happy to live here. People take pride in their homes and are enthusiastic about maintaining and celebrating the town's traditions. There is nothing better than driving down Main Street after you've been away. The red, white and blue striped road always offers some reminder of the spirit in this community whether its the sports' team decals on the light poles or the white lights and candles during the holidays. 
◇ What do you love to do with your kids around town?
Most weekday afternoons you can find us at the playground behind the fire station. My toddler races around with the trucks and is always exhausted after an afternoon playing there! On the weekends, we love to go to Minot Beach in Scituate. Our kids get up early so we like to go in the morning when it's really quiet. We bring Atlantic bagels and coffees and stay until our toddler's nap. 
◇ Favorite kid friendly go-to dinner?
 Tacos! We definitely have taco night at least once a week in our house. I switch them up so it doesn't get boring. Barbeque chicken or salsa chicken made in the crock pot with lots of fun toppings are my favorite in the winter and I love making grilled fish tacos in the summer. 
◇ What is one of your favorite moment as a mom to date?
I was making dinner the other night and my two-year-old sat down next to my baby with a book and started "reading" it to him. He was pointing out everything he knew and asking him if he could say the words, just as I have done with him so many times. It completely melted me. Watching these two become best buddies has been incredible! 
◇ What do you find to be the toughest part about being a mom?
Trying to find time for myself. As a mom, it feels like someone always needs me…a diaper change, a hug, a snack… and it can be hard to step out of that role and find time to just be "Jackie" and not "mom." 
◇ What is the best advice you have received as a mom?
"Just enjoy this time! They will all be walking and talking at the bus stop!" It is easy to get caught up in the textbook milestones and compare your kids to others, especially during the first year or two. My son was a late walker and an older mother gave me this advice. I loved it.
◇ What is the best advice you would like to give to a new mom?
 Extend yourself a lot of grace. As a first-time-mama, you will undoubtedly have moments of exhaustion and impatience. Don't beat yourself up and take care of yourself.
◇ What is one thing you never leave the house without?
 My diaper bag – a little bit of a cheat answer as it includes anything and everything!  
◇ What is something people would be surprised to know about you?
 I played ice hockey in college and I cannot wait to get my little guys on skates! 
◇ What do you do for work?
Prior to having kids, I worked as a financial analyst for a commercial real estate capital intermediary. I took a full year off after having Charlie and then joined Coldwell Banker Residential Brokerage in Hingham because I missed the real estate world! I just recently joined the commercial real estate world in Boston with my former firm.  
◇ Where do you love to shop for yourself?
Lululemon, J. Crew, Bloomingdales, Chel Bella, Gap
◇ Where do you shop for your kids?
Gap kids, Carolann's
◇ Favorite must have product for moms?
A Keurig. My day does not officially start until I've had my glorious cup of coffee. 
◇ Favorite must have product for expecting moms?
The Boppy Lounger is my favorite product for newborns! Both my boys basically lived on this from 0-4 months. It is super light and easy to carry around the house. You can throw it on the floor, the kitchen counter, the couch, your bed…it's the best and my kids loved it. 
◇ Favorite must have product for kids?
Beauty Counter Baby Balm! My kids have sensitive skin and this balm seems to work on everything. 
◇ Go – To Spot in Town?
Greenlight – their kid-sized smoothie with a paw patrol sticker is a special treat for Charlie and he hasn't caught on that it's filled with greens and fruit, so we are weekly customers. Also, their team is SO nice, happy and friendly. 
◇ Favorite Quote?
 "Someday we'll look back on this and it will all seem funny." – Bruce Springsteen 
Thanks, Jackie!