Check out this amazing chicken wing recipe from Love and Olive Oil! Not too spicy making them perfect for the kids but jam packed full of flavor that will make your mouth water! This recipe does take some time, but is totally worth the wait!
Ingredients
4-6 appetizer servings 
For Brine:
2 cups brewed sweet tea
1 tablespoon kosher salt
1/2 tablespoon smoked salt
2 pounds chicken wings
For Rub:
2 teaspoons ground cayenne
1 teaspoon ancho chile powder
1 teaspoon garlic powder
1 teaspoon ground paprika
1/2 teaspoon ground black pepper
1/4 teaspoon smoked salt
cooking spray, as needed
1 tablespoon canola oil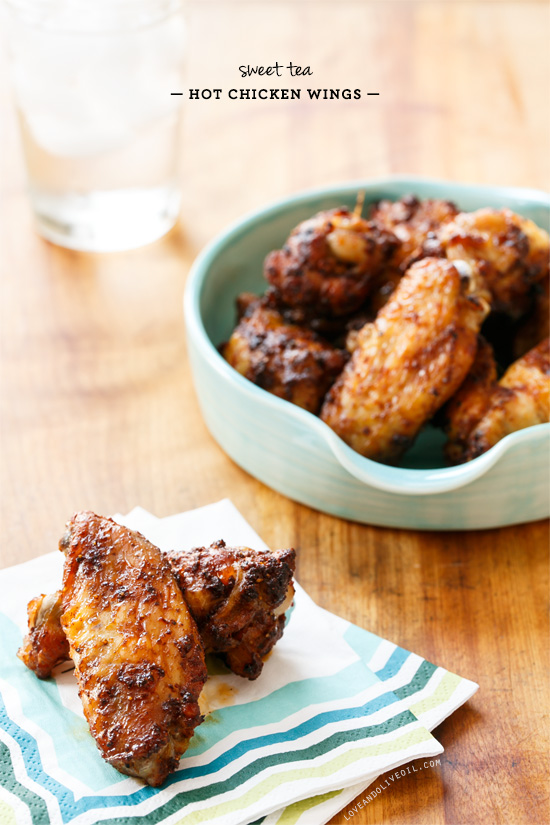 Directions: 
cook time: 1 hr total time: 8 hrs 
The night before you will be serving the chicken wings, prepare the brine. Combine sweet tea, kosher salt, and smoked salt in a 2 cup microwave safe measuring cup. Microwave on high for 45 seconds or until warm and stir until salt is dissovled. Add a few ice cubes to quickly bring the mixture back to room temperature.
Place chicken wings in a medium bowl. Pour over cooled brine mixture; cover and chill for 8 hours. The next morning, remove wings from brine and place on paper towels. Discard brine. Pat wings dry and arrange on a baking rack set inside a half-sheet pan. Place wings, uncovered, in the refrigerator for 6 to 8 hours until completely dry.
Preheat oven to 400 degrees F. Line a baking sheet with aluminum foil and place an oven-safe wire baking rack inside. Spray liberally with cooking spray.
In a bowl, combine cayenne, ancho chile, garlic, paprika, salt and pepper. In a large bowl, toss chicken wings with 1 tablespoon canola oil. Sprinkle spice mixture over and toss until evenly coated. Arrange wings on prepared baking rack so they are not touching each other.
Bake for 40 to 50 minutes, flipping once part way through, until skin is browned and tips are crispy. Serve warm.